Book Review: The Red Scrolls of Magic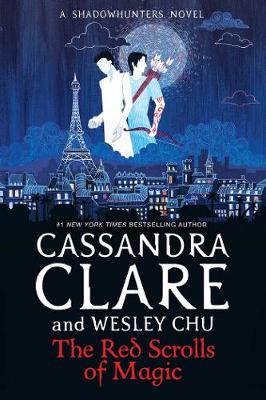 The Red Scrolls of Magic is the first of a trilogy about Magnus and Alec, the characters who first appeared in the Shadowhunter collection by Cassandra Clare.
The Shadowhunter world is an amazing world where over the six books you really get to know the characters and feel part of this world. In this sense its like The Harry Potter books and like the Harry Potter books I could spend ages and ages talking about these books but for today am just going to talk about the characters Magnus and Alec.
Magnus and Alec is that good old traditional love story of Warlock meets Shadowhunter (a secretive race of humans born with angel blood. They fight demons and have lived alongside Downworlders (vampires, warlocks etc) in the Shadow World for well over a thousand years, creating their own culture and civilization within human society. Their mandate is to keep the peace in the Shadow World and keep it hidden from the mundane (ordinary people) world while protecting the inhabitants of both worlds. I am going to skip pass their 'love story' as will be here all day as so much happens in the books.
The Red Scrolls of Magic takes place between the 3rd and 4th book of the original Shadowhunter novels. Magnus and Alec decide to go on vacation.
The Red Scrolls of Magic is the story that Magnus and Alec always deserved. They are both trying to live in a world that wants them to be something they're not, but together they kick ass and are so in love with each other its like real couple goals.
The great thing about Magnus is, he is immortal so someone who is at least 400 years old is going to have alot of stories to tell (you can find more Magnus stories in another spin off book called the Bane Chronicles). This book looks more into Magnus past which as expected is very heartbreaking.
I could write about what happens in the book but i would rcommend you get to know this world in your own time. But i will try and summon up this book and what Magnus and Alec's relationship show. This book was all about forgiveness and how sometimes forgiving someone is the most amazing thing you can do. We all make mistakes and people can do horrible things, but at the end of the day, everyone wants to be loved, and everyone is deserving of love, and sometimes that comes in the form of forgiveness and sometimes we need to forgive ourselves for past mistakes that we've made. Who you are in this moment means way more than who you were growing up, or even who you were last year. Sometimes people really do deserve second chances.
And am so glad they made it through this even though you know it will turn out alright in the end cause you have read the original Shadowhunter books.
There is also an audiobook spin-off series (told you this was a big world to try and explain). Born to Endless Night is the ninth short story in Tales from the Shadowhunter Academy its a light-hearted story in which Alec and Magnus become parents.